INFO 31/08/2015
Le CMR featured in a chinese magazine.
At the 12th TIM on 20 and 21 June, a young Chinese pilot Xu Tong impressed us by his flying skills. He was in Bulgaria for the World Cup competition which preceded the European Championship and handed me a magazine from which I extracted the following pages.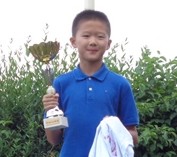 Revue Chinoise
The champions trained at the stadium of Rouillé.
After Christophe Paysan Le Roux in July, the Team Racing teams, Thierry Ougen / Roland Surugue and Pascal Surugue / Georges Surugue came to prepare for the European Championship at the stadium of Rouillé. The quality of our infrastructure enabled these champions to shine as Christophe, after winning another F3A Championship of France won the world championship in Switzerland and George and Pascal were crowned European champions in late August in Bulgaria. At the same competition Thierry and Roland, members of the CMR, were ranked fourth.
Serge DELABARDE